Delta Q Milk Qool Evolution
Bookelis Puccio Book Dieu Origine et Delta Q, quel est le rapport ? Effectivement, sautons du « coq à l'âne », présentons DeltaQ MilkQool Evolution, (video ci-dessous), machine café, capsules, (44 x 19,3), muni d'un réservoir à lait indépendant. Pourquoi présenter une machine à café ? L'explication à la fin de cette présentation pourrait paraître farfelue, et très certainement, inappropriée au thème du blog. C'est vrai. En effet, le blog présente le Book DIEU D'ORIGINE, publié chez Bookelis Puccio, biographie-auteur.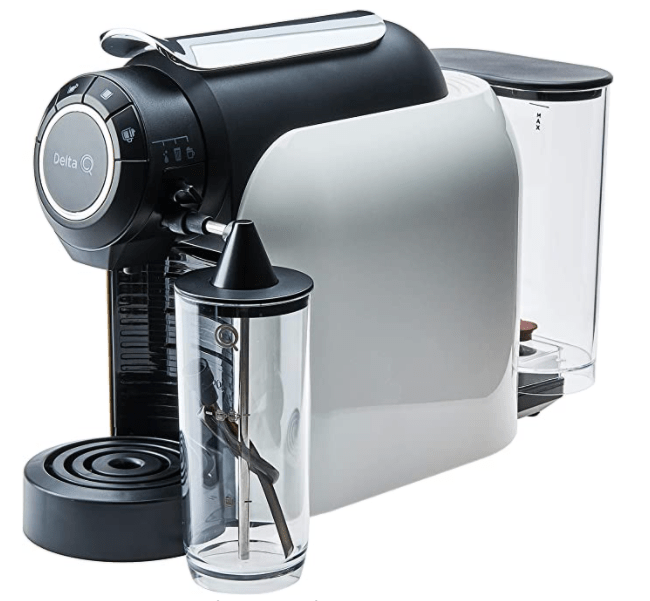 Delta Q MilkQool - Coffee capsules
What relationship is there, if there is one, with a coffee machine, I ask you? A priorisa, there are none. In fact, recently I bought for the first time, (there is a beginning to everything), a capsule coffee machine. I specify that I present the Delta Q Qool Evolution free of charge. I do not perceive any profit on the sales of this device of Portuguese origin.
So, being a novice not to say ignorant of coffee machines, I searched the internet and Google in vain for a diagram, drawing or photo showing the capsule reservoir of this device. In fact, this is a personal error of judgment - the capsule container is indicated at item 8 in the user manual -. Only, from my point of view, the tank, with a capacity of 10 capsules, was a sort of charger. Moreover, the information collected, appearing on the site of the parent company, and similarly, on other commercial sites, does not say more.
Video You Tube
Delta Q Information
Ultimately, a brief information can be found in the user manual of the device, in the section, troubleshooting. When you encounter a problem, such as a blocked capsule: "Check whether the used capsule container is full. Empty it, if necessary, and return the empty container to its original position. Of course, information makes perfect sense. But not necessarily for a novice.
In fact, the front of the tank is concave, a well thought out design, all of which fits into the front of the device. As for the receptacle, where you place a cup or a glass, it is removable. It is attached below the tank, going beyond the limits of the device and the tank. Each time a new capsule is inserted, the old used one, is expelled into the capsule reservoir (used). Ah!
Seo Optimize your pages
DeltaQ the ultimate in optimized pages. An SEO expert confirms that the DeltaQ page is the one that receives the most visitors every day, a recors! who would have believed it.