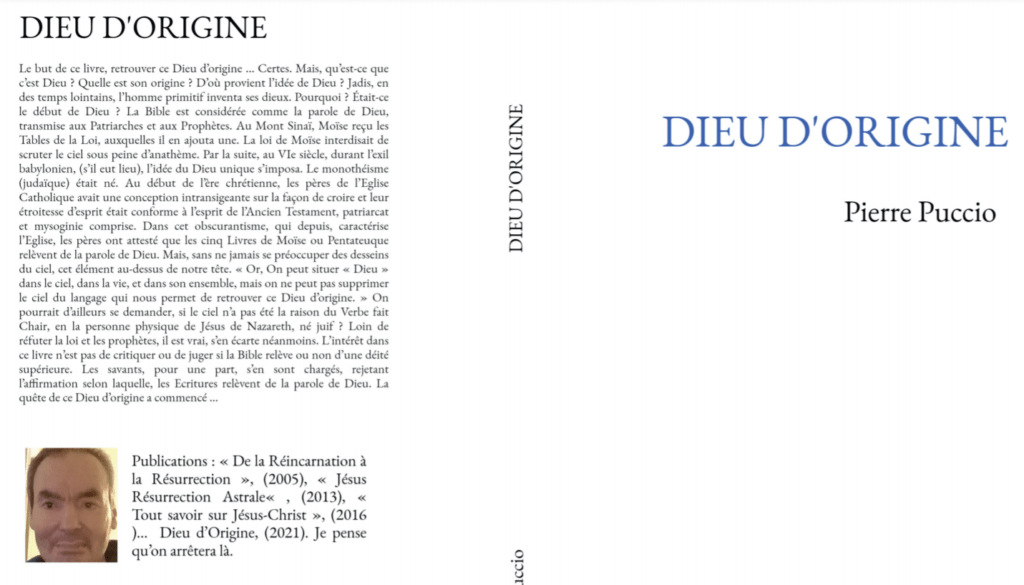 GOD OF ORIGIN FOURTH COVER:
Au commencement … Le but du livre : tenter de retrouver ce Dieu d'origine … Certes. Mais, qu'est-ce que c'est Dieu ? Quelle est son origine ? D'où provient l'idée de Dieu ?  La Bible est considérée comme la parole de Dieu, transmise aux Patriarches et aux Prophètes. Au Mont Sinaï, Moïse reçu les Tables de la Loi, auxquelles il en ajouta une. La loi de Moïse interdisait de scruter le ciel sous peine d'anathème. Par la suite, au VIe siècle, durant l'exil babylonien, (s'il eut lieu), l'idée du Dieu unique s'imposa. Le monothéisme (judaïque) était né. Au début de l'ère chrétienne, les pères de l'Eglise Catholique avait une conception intransigeante sur la façon de croire et leur étroitesse d'esprit était conforme à l'esprit de l'Ancien Testament, patriarcat et mysoginie comprise. Dans cet obscurantisme, qui depuis, caractérise l'Eglise, les pères ont attesté que les cinq Livres de Moïse ou Pentateuque relèvent de la parole de Dieu. Mais, sans ne jamais se préoccuper des desseins du ciel, cet élément au-dessus de notre tête.
"We can envision 'God' in the sky, in life, and as a whole, but we cannot remove the sky from the language that allows us to find this GOD OF ORIGIN." We could also ask ourselves, if Heaven was not the reason for the incarnation of Jesus, the Word made Flesh. Jesus of Nazareth, born a Jew? Far from refuting the law and the prophets, it is true, deviates from it nonetheless. The point of this book is not to criticize or judge whether or not the Bible is from God. Scholars, in part, have done so, rejecting the claim that the Scriptures are the word of God. In the light of reason, this book, in search of this God OF ORIGIN, must have proceeded from the Scriptures, but up to a point. The reader will see himself guided, beyond hopes, beliefs, going beyond the restricted framework of Religion. Indeed, why, in the vastness of the visible and invisible universes, has a tiny planet, Earth, been taken as the repository of a divine message? The quest for this God OF ORIGIN has begun ...